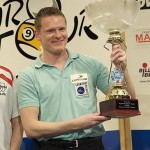 Hi Niels, is a pleasure to ask you some questions, but before, I want to thank you to give us the possibility to make this interview, lets start:
– At what age did you start to play pool?
16
– Do you remember what was your first cue?
Red cue called Diamond Cue or something 🙂
– How do you get it?
A friend of mine's girlfriend used it but she didn't play much. I borrowed it 🙂
– Your nickname is «The Terminator» what's the story behind this nickname?
Matchroom came up with the nickname during the world 9ball 2001 in Cardiff. Probably because I look very focussed and determined when I have my gameface on 🙂
– Who is your best friend in pool's world?
Hard to have «best» friends in the poolworld. It's not a teamsport and you compete against the same group of people every year. Some people you get along with better then others. I feel I get along with almost everybody in the poolworld, but I feel best friends are outside of the poolworld 🙂
– In your opinion, Who is the best pool player?
Efren, more knowledge then anybody on the planet. He elivated the game with kicks and safe's and made the entire planet play better. Also when there was a huge money tournament, who won? Efren! Tokyo 2001, Cardiff, IPT 1 and IPT Reno.
– You have played a lot of tournaments all around the world, but, What is the greatest story that ever happened to you playing pool?
Many stories good and bad, I will tell 1 funny and 1 sad.
1. During the WC 8ball, there are always a lot of flies and bugs in the arena, sometimes even 8-10 on the table! It would drive you crazy. Anyway, during the last 16 or something, I shoot a shot in the side and let the qball roll forward. All of a sudden, it stops and rocks a little back!! Like it hit something….??? I go and look and I ran over a big mosquito!!! Blood on the table, everybody laughing, it was funny!
2. During the Challenge of Champions 2003 or something, we used to play with the sponsors. The 8 players got matched up with a sponsor and we would play scotch doubles mini tournament. I got matched up with a man in a wheelchair, which is no problem. However, he was not good at all but we had fun anyway. All of a sudden, it's his shot, he looks at me from his chair for a couple of seconds and «BOEM», his heartmachine goes off and he jumps up 10cm from his chair. Really scary… They got an ambulance, but he wanted to make the 8ball which was in front of the pocket. He had to make it he said. He hit it but never saw the result…. He fell in his chair and he asked me if he made it. I said yes!! But he missed it… I didn't want to tell him of course. Ambulance took him away, he said he would be ok, 2 weeks later he passed away…
– There are several pool films, what's your favourite?
Color of money
– What was the first tournament you played?
Dutch 8ball tournament, 2nd place, 60 players single KO races to 3 🙂
– What was the first tournament you won? What age have you got?
Dutch 9ball tournament a few weeks after the 8bal tournament. Also about 50 player, races to 9.
– What type of pool do you prefer?
One Pocket, Rotation, 10ball with call shot.
– Always love trophies more than others, which are you most proud of?
My first world title
– In your opinion, what is the best organized tournament that you played?
IPT
– Do you play some tournaments in spain in the past, What do you think of the organization of the championships in Spain?
Peter Aprile's tournaments. I loved them! Good format, long races, good players, good pricemoney.
Also Longoni Cup in Jaen, lovely event and nice town!
– And about the spanish pool players?
Excellent players like Alcaide, Sanchez, Cabello and very friendly guys!
– What is your next tournament?
8ball event in Amsterdam this weekend, Mosconi Cup after that
– This year you'll play agin the Mosconi Cup, but this year, Team Europe don't have Ralf Souquet, do you think that this will be a big loss for the European Team?
Ralf is a great one to have on the team, but at the moment the competition is very tough in Europe and all the players that are in the team are champions!
– How many Mosconi Cup do you play? And Win?
This will be my 8th, 3 wins.
– How many hours do you train each day/week?
Depends what's coming up. Sometims 3 hours a week, sometimes 20. If something big is coming I put in more work.
– How is your trainning?
Drills, break training cause we have about 6 different break formats which I think is crazy. Sparring with other players and finetuning weaknessess. Also cycling and mental work
– Some time ago, I saw a post of yours at Pro9 forum asking for someone to play against in long sessions, at your home first and then at his/her home. Did you finally find a rival? In that case, what was the score?
Dídn't happen yet. Melling wants to play. Probably in the new year 🙂
– What cue case have you got?
Something from Chicago
– And the last question, What have you got in your cue case? (wich kind of cue, shaft, tips, chalk, etc)
chalk, scraper, talkpowder, extension, bridge, tip tapper, sand paper
Many thanks Niels to take a time to answer our questions, and from Bola-8.es we wish you the best of luck in your upcomming competitions.
You're welcome!!
* Photo taken from Niels Feijen's Facebook page