Interview with Florian "Venom" Kohler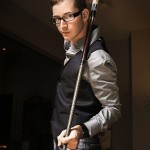 Hi Florian, it's a pleasure to make you this interview.
– At what age do you started to play pool?
18
– Do you think to play in non a Artistic Pool Championships, like Euro-Tour?
Yes, it's in my plan…I have to really start working on my regular pool game and we will see. For now I'm really focus on trick shots and started artistic billiard more seriously. I'm also playing a little 3 cushion in France. My goal is basically to learn the more I can from each discipline and then use it for trick shots…
– What was your first cue?
Cuetec
– How did you get the first pool table in which you recorded your first videos?
Pure coincidence, I get this as a gift from my parents as a gift for my degree and my 18th birthday
– And the last?
A poolhall closed in my neighbourhood so I bought them one of their 8 Dynamic II.
– We can see a lot of your trickshots on Youtube, Do you think you would have the same success you have now if not for youtube?
Clearly I can say no to that…
– Did you ever think you would give name to a Mezz cue? (Mezz Artistic MA-FK)
No, that was quite surprising
– How many sponsors do you have?
Right now I have RASSON, SIMONIS, MEZZ and KAMUI
– What was the first sponsor that you noticed?
MEZZ
– How do they contacted you?
After the DVD we made…
– How about has been the experience of being part of a film? (Ride the 9)
Great, I'm really looking forward to work more with them, this movie could really be a good opportunity to bring pool to the mainstream again…
– How many attempts do you usually do to record every shot that we see in the video?
There are no rule for that. It could be 3 attempts to 100 depending of the shot… Sometimes I even try 2 hours on the same shot to finally give up because it's too hard or physically impossible…
– How many hours do you train each week?
I try to play at least 3 hours a day, alterning pool, trick shots, 3 cushions, artistic billiard…
– When not playing or coaching, how you spend your free time?
I try to run when I can, I'm also black belt in Judo, but most of the time when I'm not playing I'm thinking of new shots or setting up projects with trick shots
– What's your favourite pool movie?
The hustler and poolhall junkie.
– What kind of cue case do you use?
It's all on my mezz profile. I have a hard case, 3 butts 5 shafts and a soft case which is normally for 4 butts 6 shaft that I use to put the double of material, it's incredible stuff
– And for end the interview, What's in your cue case?
Mezz playing cue, with 2 hybrid shafts, Exceed carom cue, a special stroke shaft, 2 airdrive jump cues, 1 airshooter, my mezz masse cue and 2 shaft, my mezz powerbreak 2 with one shaft for breaking, one shaft for jump masse, one shaft for small jump…And sometimes I bring my extra masse cue and 4th jump cue